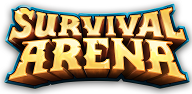 ---
Survival Areny to specjalny typ aren na których gracz walczy z różnymi potworami. Wraz z ich zabijaniem zwiększa się poziom areny, co przekłada się także na większy poziom danych potworów.
wejście do aren znajduje sie w depo miasta Thais za teleportem z napisem Survival.
na jedną arene można wejść raz na 24 h.
statystyki najlepszych graczy na arenie mozna zobaczyc w zakładce Top Arena Makers.
ENGLISH INFO
Survival Arena is a special type of arena where the player fights various monsters. As you kill them, the arena level increases, which also translates into a higher level of monster data.
entrance to the arenas is in the depot of the city of Thais behind a teleport with the inscription Survival.
you can enter one arena every 24 hours.
statistics of the best players in the arena can be seen in the tab Top Arena Makers.